The first thing that strikes you as you step into the new premises of ChildFirst Pre-school at Mountbatten, is the sheer size and decor of their Speech and Drama room.
Fully equipped with props and costumes, the room is delineated into different places found in a community. For example, a clinic, café, a construction site, a theatre and a supermarket. "An important use of this room is for "purposeful-play", where children apply conversational mandarin that they learned to real life situation, such as ordering food in a restaurant."  Cynthia, the Principal, explains.
As we move along the corridor to the classroom, Cynthia explains to us the three unique characteristics of ChildFirst Pre-school. "Besides our spacious environment, what really makes us special is our curriculum."
• Strong Bilingual Program
Everyday, lessons during the first half of the day are conducted in English, while the second half of the day will all be conducted in Mandarin (or vice versa). This is to provide sufficient exposure time for children to be effectively bilingual.
• Multiple Intelligences
The school curriculum is developed based on Harvard University Professor Howard Gardner's theory of Multiple Intelligences recognising that each child is smart in their own way. And that they also learn differently and have different interests.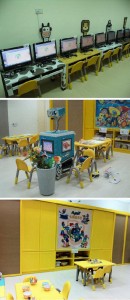 • Technology Immersion
In today's world, technology literacy is a must. At ChildFirst, the computer room, which is called the "Cyber Zoo", comes equipped with the latest touchscreen computers. Each classroom also has a computer learning corner in the form of a cute robot-looking "Ed-D" with touchscreens on its tummy. Cynthia explains that  "This generation of digital native children will use technology to be independent and self-confident learners. They also will use age-appropriate software to express themselves by creating their own multimedia blogs, which parents can view by logging into their accounts and can even view them on their smart phones."
Teachers also use interactive whiteboards in the classrooms to make lessons come alive. Cynthia adds, "For example, in the occupation theme, children will see a real ultrasound scan of a baby in the womb to understand some of the things doctors do."
• Tapping On External Resources
In collaboration with the National Library Board, ChildFirst will receive 500 books from the library every month. These books are all on loan and will be placed in each of the classroom's library corner. When the month is up, a new set of 500 books will be sent over while the previous batch will be returned to the library.
• Inclusive Education
If you have a keen eye, you would have noticed that the 8 ChildFirst mascots (representing the 8 intelligences) have different skin colours, with one of them in a wheelchair. Ms Cynthia adds, "We accept children from all races, religions and abilities. Here, we place a strong emphasis on a people-first. We at ChildFirst respect all children."
The school is already all geared up, ready to start operations by January 2011. "All we lack now are the children's laughter!"  Cynthia exclaims, followed by a hearty laugh.
For more information, preview of the school or to register for our Saturdays' Open House, you may reach Cynthia or Lillian, at 6440 4466. You may email them at contactus@childfirst.com.sg
For additional information, log on to www.childfirst.com.sg

229 Mountbatten Road
#01-32 Mountbatten Square
Singapore 398007